How to create an oracle cloud network for your website.
Oracle provide an Always Free Tier.
Part of this service is
Autonomous Database
2 Virtual servers
Object Storage
What we can do with those resources?
Create a network for web application

Application server
Database server

Create a MySQL server – two MySQL servers wtih replication primary – primary
Create an application servers with high availablity
Website Network
Build a website network using always free tier.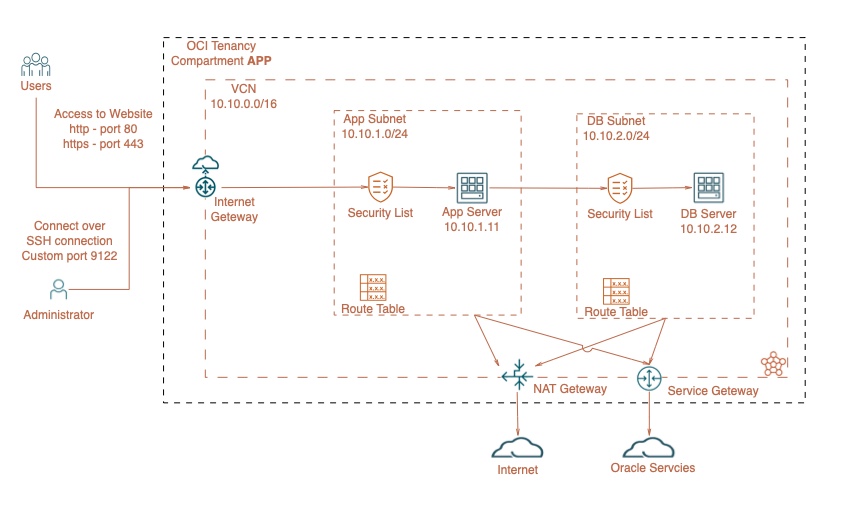 To build a network we will set:
Virtual Cloud Network – VCN
Two Subnets

App Subnet
Database Subnet

Route Table
Security List
Internet Gateway
Nat Geteway
Two VMs

App Server
Database Server

Servcie Geteway
Steps to Build Your Network
You need Oracle Always Free Tier account, create one at https://oracle.com
Create compartment – APP
Create VCN in compartmnet APP – 10.10.0.0/16

Public subnet – 10.10.1.0/24
Private subnet – 10.10.2.0/24
NAT Getway
Internet Gatway
Security List

App Server
Database Server
Description
Two server App server and DB server.
DB server – MySQL Community Database. Open port 3306 – default port for MySQL database.
App Server – Web server ( Apache, Nginx, Open Light Speed) with PHP.
PHP communicates with MySQL is over the private connection between subnets throw network 10.10.0.0/16
For public open port 80(HTTP) and 443 (HTTPS).
Administrator Access
For your access open port 22 ssh, but restrict it to specific IP – only your IP. ( additional ports will be required to open during complete configuration)
For MySQL access – configure tunnel throw app server using SSH connection.
Configuration
Security LIst
APP Subnet
Type
Source/Destination
Port
Description
Ingress
0.0.0.0/0
80
Allow HTTP port
Ingress
0.0.0.0/0
443
Allow HTTPS port
Ingress
From your IP
https://whatismyipaddress.com/

Sample: 102.34.54.78/32

22
Allow SSH from your IP address for security.
Do not open it from all IPs 0.0.0.0/0
Egress
0.0.0.0/0
443
Allow outgoing HTTPS connections for server update
Egress
0.0.0.0/0
80
Allow outgoing HTTP connection for server update
Egress
10.10.2.0/24
3306
Allow MySQL outgoing connection to DB network
Egress
10.10.2.0/24
22
Allow outgoing port 22 to DB network
Egress
169.254.169.254/32
123 UDP
Allow outgoing port 123 – time server
DB Subnet
| Type | Source | Port | Description |
| --- | --- | --- | --- |
| Ingress | 10.10.1.0/24 | 22 | Allow SSH connection from app network |
| Ingress | 10.10.1.0/24 | 3306 | Allow MySQL connection from App network |
| Egrees | 0.0.0.0/0 | 443 | Allow outgoing HTTPS connections for server update |
| Egrees | 0.0.0.0/0 | 80 | Allow outgoing HTTP connection for server update |
| | | | |
Virtual Machine
App Server
| Application | Configuration | Notes |
| --- | --- | --- |
| OS | Oracle Linux | |
| Time Server | 169.254.169.254 – 123 UDP | |
| yum update | Daily update throw crontab | |
| | | |
| | | |
Database Server
| Application | Configuration | Notes |
| --- | --- | --- |
| OS | Oracle Linux | |
| MySQL | port 3306 | |
| Time Server | 169.254.169.254 – 123 UDP | |
| yum update | Daily update throw crontab | |
| | | |